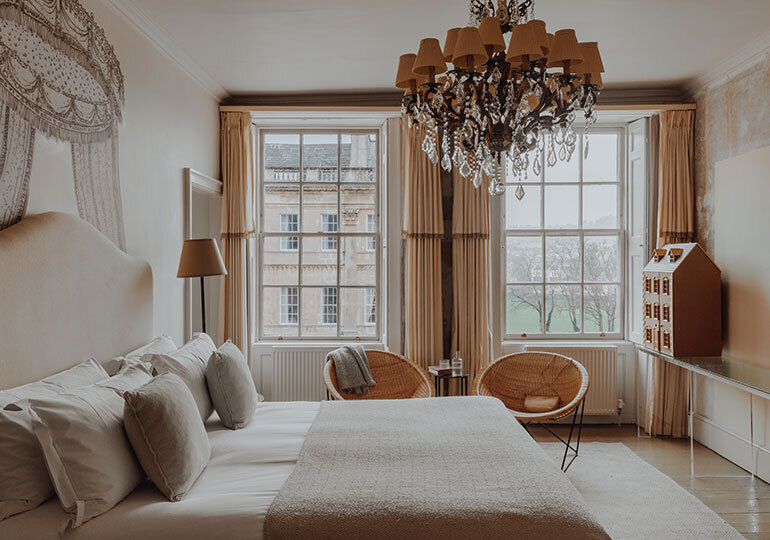 GuestHouse will have its first hotel in Bath
Tristan, James and Tom Guest may be first-time hoteliers, but they worked together for many years at John Guest, a family business started by their grandfather 50 years ago and recently sold for a sizeable sum. And while a business background in manufacturing plumbing systems may not seem like the obvious grounding for starting a boutique hotel brand, they say they have always loved British hospitality and saw a gap in the market to elevate and enhance the city hotel experience by introducing GuestHouse.
Their first project is in Bath and is a former hotel on what they say is the best street in the city. All being well with the roadmap, they hope to open No.15 Great Pulteney Street from GuestHouse around 17 May, and told TTG Luxury all about their hopes for the hotel, the brand and the future roll-out in the UK.
Q: How long have you been hatching the plan for GuestHouse, and what drew you to it?
After the sale of our family business in 2018, we decided we wanted to do something new together. We have always been interested in property, but we realised that we didn't just want an investment, but to create a business that, ultimately, we would be proud to own. We believed back then that increasingly people would want to take breaks in the UK, whether for weekends or longer staycations, which we have seen subsequently surge as a result of the pandemic, of course. We also knew we wanted to create something with longevity, that did some good along the way, and be in a field we were passionate about. All three of us living in London means we (used to) spend a lot of time hopping to different restaurants, pubs, bars and cafes – we certainly never considered ourselves experts, but we felt we had done some good homework. After lots of discussions on what would be next, it became clear we wanted to do something together in a sector that was interesting and fun, so the hotel sector seemed the perfect combination of our passions.
Q: Who's the best at what among you? Who focuses on what in the company?
Tristan is the oldest, James in the middle and Tom the youngest. We all want to be involved in different parts of the business and work closely together. However, in terms of what we focus on: James has been more involved on the marketing and strategy side, Tristan on the commercial side and acquisitions and Tom on the property side, working with architects and designers. In terms of what we are good at, James has a clear view of where we need to go, Tristan likes getting involved in the detail and Tom has a practical mindset. So we all have our specific areas of interest, but our prime focus is to deliver a pipeline of new hotels and to ensure our current offering is meeting our brand promise.
Q: You must have a practical head (between you all) having grown up with an industrial family business around you – how does that play into creating hotels?
It is obviously a different world to what we were involved in before. However, we believe there are elements that made our family business successful that translate over to what we are trying to do now. The quality of the service we provide will always be paramount, a strong company culture and investing in our people, an ethos of treating each other with respect, and always looking towards the long term without taking shortcuts. All the hidden details that the guests/customers never see, but help the staff offer a great product. We've learnt our business ethics from working together with our father and grandfather within the 50-year-old family business and treating our staff, suppliers and collaborators as part of the family in a kind, fair and open way is a priority. As well as we brothers, we are working with Diego Masciago as our director of guest experience, who we have known for many years. We were fortunate to have several family occasions at the Waterside Inn, and we realised it was the service and personal touch of Diego that made those occasions so memorable. He is a great guy to work with, and he is helping us learn the art of hospitality.