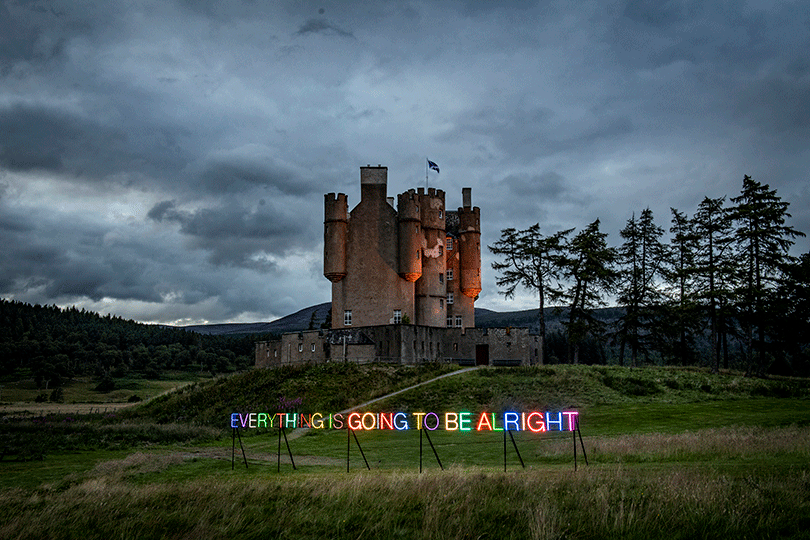 Martin Creed's Work No.3435, Everything Is Going To Be Alright (Photo credit Sim Canetty Clarke)
A new neon work by Turner Prize-winner Martin Creed was unveiled at the weekend in the grounds of nearby Braemar Castle, with the 1628 building offering a striking backdrop for the contemporary outdoor piece.
The unveiling of Work No.3435, Everything Is Going To Be Alright also marks the reopening of the hotel, which was the winner of the TTG Luxury Travel Awards' Best New Luxury Hotel of 2019.
The hotel is owned by Iwan and Manuela Wirth, who are renowned in the global art community for their art curation and string of Hauser & Wirth galleries, and placed 16,000 works of art, antiques, and objets in The Fife Arms.
Originally launched at the end of 2018 to great fanfare thanks to its art collection – which includes original works by Picasso and Lucian Freud – the hotel breathed new life into the town and sparked a wave of interest from around the world.
Everything Is Going To Be Alright will remain in situ in the Highland village for the rest of the summer at the castle, which is managed and operated for the benefit of the community by Braemar Community Limited and attracts 14,000 visitors each year. Creed's photographic print of two dogs, Work No. 1094, is already part of the hotel's large art collection.