There's nothing standard about this hotel
27 Jul 2021
by April Hutchinson
A lift on the outside of the building, Drag Bingo, killer rooftop views, DJ booth, full library – what's on offer at The Standard is well, far from standard.
I'll always think of this hotel fondly now for its rooftop vibes – for sipping rosé with a fellow travel journo friend as we emerged blinking from lockdown; enjoying a Camden Hells beer during our recent "heatwave" at an industry meeting; and for knocking back a "freedom" tequila under the light of a full moon...
The views of the staggeringly handsome form of St Pancras are just as memorable; and beyond you can watch the ongoing metamorphosis of Kings Cross, with the likes of Google building ever more ambitious offices over the road. And, let's face it, if you're as old as I am – and used to commute into this station from sticksville in your 20s – this is a very different scene these days.
And The Standard is all about "the scene". It's one of those places when you can't tell who actually works there and who's here to hang out with mates or Work From Hotel, because everyone's super cool here – unless you spot the earpiece of course.
But unlike some places where staff's too-cool-for-school approach forbids them from actually seeing if you need anything, this crew seemed a happy, relaxed, welcoming bunch, if not a little stretched on that rooftop and in Double Standard, the hotel's main restaurant when faced with seemingly at-capacity numbers.
But given how several hoteliers have told me of late that they're struggling to find people and suffering with the ongoing "pingdemic", staff in hospitality can be forgiven if they seem run a little ragged. And it certainly wasn't enough of an issue to overshadow the overall experience for me. Just the sheer joy of getting to re-stay in nice hotels is still proving a novelty for many of us, I'm sure.
But of course, you need more than a comfy bed and a smile at reception to get a rounded hotel stay. The Standard's architecture may not be to everyone's taste, but its story does give it a really good edge as a recent addition to the city's hotel scene, and also as the first of this brand's hotels to open in the UK.
The former Camden Town Hall Annexe, these old council offices have been transformed into a contemporary, 266-guestroom hotel, with lead architect Orms putting sustainability at the heart of this conversion, creating a low carbon future for the building.
Opened originally in 1974, the iconic, Brutalist building is quite the contrast to the classical style of St Pancras station opposite. The eight-storey building has been extended with three new levels of steel and glass at the top, and a new garden added at street level.
Orms worked alongside Shawn Hausman Design and interior architect Archer Humphryes and the result is as eclectic as that contrast between the two neighbours. Some of the style made me feel Austin Powers may "groovy baby" his way in at any time, other areas were pop-culture contemporary, and my king suite also brought to mind sleek Japanese minimalism.
While it's (mostly) still summer, any hotel or restaurant with outside space in the UK is no doubt trying to make hay while the sun shines, and the hotel has the rooftop as well as a ground-level terrace, with enough plants to make you feel you're in Miami – if you squint.
The ground floor is almost one large open-flow space, but punctuated nicely into the library area – shelves and shelves of books, bar, plenty more plants and a 1970s vibe – Isla, with a modular, linear style and tables inside and out; and Double Standard, which again has in and outdoor options and wraps around the main bar.
When it comes to dining down here, Isla is technically not open for its usual full service, so in Double Standard, there's currently a menu of hearty, popular comfort food and some more refined dishes from Isla, such as gazpacho and ceviche salad.
Double Standard is also the place to come for breakfast, and the bottomless Sunday brunch – and where you'll find the uplifting Double Trouble: Drag Bingo, where drag star Grace Shush and friends bring their own spin on bingo every fortnight.
There's also the signature 10th-floor restaurant Decimo, accessed by that external red-pill lift, and once there, diners find Michelin-starred chef Peter Sanchez-Iglesias's mix of Spanish and Mexican cuisine. Expect gambas rojas, mangalitza pork, mezcal cocktails and an apparently "dramatic take on tortilla".
I really loved the feel of the The Library Lounge, where there are brilliant sections of reading material in what would have been the council's old library. Plenty of comfy seating and tropical plants are backed by a great soundtrack – and even live DJs as part of the regular programming such as The Chessidency… a night of, yes, chess and tunes, played live from the Sounds Studio.
The Standard's range of rooms are also fairly eclectic and norm-breaking for a central London hotel: suggest graduating up to suite level and the decor (and obviously space) notches up a few levels, with terraces with outdoor bathtubs among the options.
In a nod to the Great British weather, there were also two Stutterheim raincoats in my Junior Suite's wardrobe – which are cool enough to actually make you crave the rain. My suite also came with a sizeable corner work/seat/dine area and with some generous air conditioning, you can see how the whole Working From Hotel thing would take on an even more appealing sheen on the hot days that have sprinkled our weeks of late.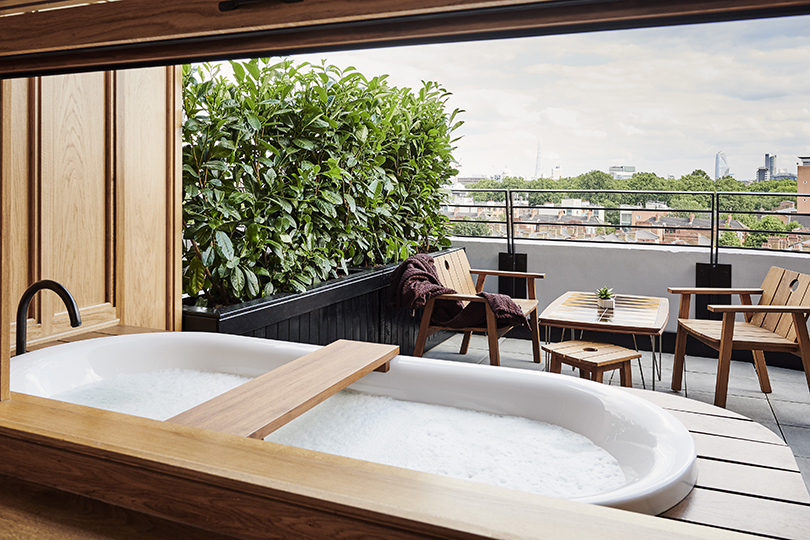 Some suites even include a bathtub on the terrace
With the use of pale, sleek woods and minimalist lines, matched with a standalone bathtub in the bedroom, the suite had a bit of a Japanese feel to it. I was impressed too by the wall-mounted larger bathroom bottle amenities and generous walk-in shower. A cute welcome note and some snacks were also appreciated.
Some people are still too nervous to travel – anywhere. Some people cannot get a cottage in the Cotswolds or Cornwall for love nor money. For anyone who just needs a change of scene and a definite break from the norm, stress the possible fun relief of hanging out at The Standard. Once you spot a selfie on Instagram of them enjoying a hot dog and a beer on the roof, or sitting in a bath on their terrace with London at their feet, hopefully you know they'll be thanking you for it soon.
How to book it
Lead-in rate at The Standard is £199 per night. The hotel is offering 20% off all summer stays, and to tie-in with its rooftop offering, the High Standards package includes two cocktails up there and breakfast in bed. Go up another notch, and Suite Self Care includes an in-suite massage and either a mani-pedi, blow-dry or facial, plus 24-hour gym access and use of Peloton bikes delivered to the room (upon request).