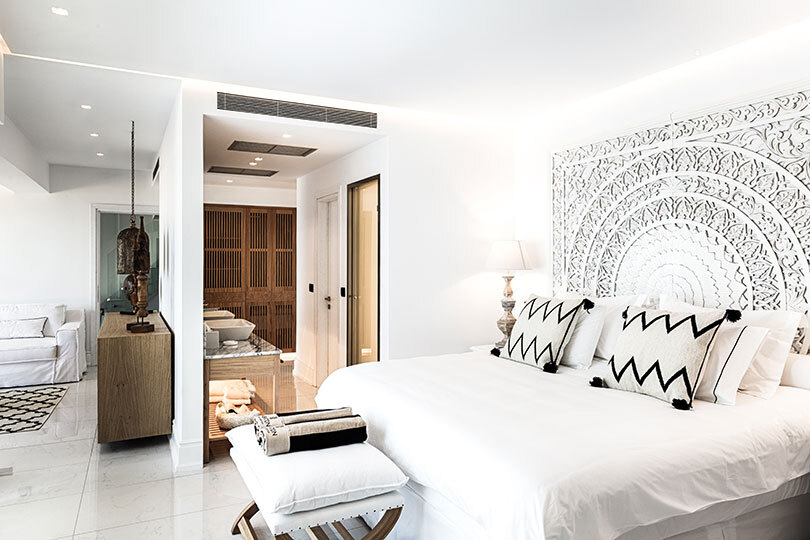 Abaton, a resort in the north of Crete, could be an appealing option
If The White Company did hotels, I imagine the rooms would look something like this. When I visited Abaton Island Resort & Spa's last year, I was cosseted in a two-storey villa, one of the highest-level accommodation options at the hotel, and downstairs, a large monochrome lounge with huge squishy sofa, enormous mirror and dining table, led to a private terrace.
Out there, there's a hot tub, private (salt-water) pool, shady decking and a lawn leading out into the shoreline beyond, where curling up in one of the hippie-chic cabanas is another appealing option.
With spring around the corner and news from the government around the "cautious and irreversible" route out of lockdown (in England at any rate), including a tentative date of 17 May on when international travel may restart, it hopefully makes sense for lots of people to start turning their dreams into reality now and booking a holiday. And Greece – as it was for much of last year – could be one of the bright beacons Brits consider.
"It is certainly promising also that talks are underway about a possible UK travel corridor to Greece this summer and we are greatly looking forward to welcoming our guests back," Georgios Kaloutsakis, deputy chief executive of Abaton Island Resort & Spa, tells me.
"We understand people's plans can still change at the last minute right now, and we want to support everybody in the tourism chain and industry. With this in mind, we are offering free cancellations up to the very same day of arrival, which we hope offers trade partners and their customers reassurance."
Crete in general could offer a reassuring option for a lot of people this summer: familiar, not too far, lots of great hotels, and a track record of having already got a lot of protocol measures in place last year. Plus of course, it's a beautiful island.
During my stay, I was ready to do as little as possible if I'm honest, which my sister and I achieved with some aplomb. Hanging out at the villa became an easy and enveloping option, and there was plenty of space to do so. There was a bathroom and closet space downstairs, so a family could easily make this an extra bedroom; of course, it worked well for two women who needed oodles of places for endless clothes, shoes and toiletries (not that you need to bring much with you, as the hotel offers its villa guests Jo Malone's Lime Basil & Mandarin range in the bathrooms).
Upstairs, the twin beds are draped in white linens against a wall backdrop of a beautiful inlaid fresco, there's a striking ceramic feather piece on the wall, and a big white chaise longue – it was literally like walking into heaven. Floor-to-ceiling sliding doors the width of the wall ensured we had full views of the Aegean Sea, and another terrace to relax on.