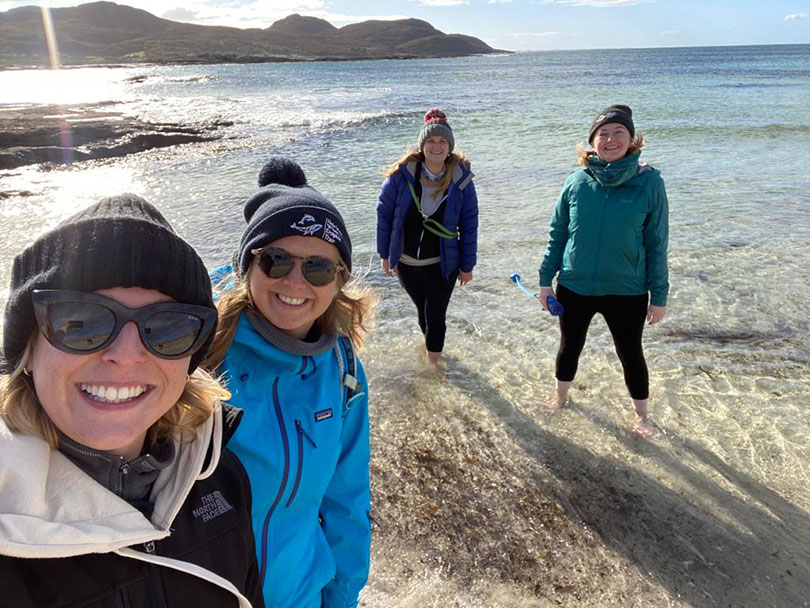 Hattie Seal and Annabel Upson (from left) with the HWDT team in Scotland
Travelling Whale aims to offer bespoke travel services and small group tours both in the UK and internationally; all of which will have an element of sustainability, whether that be a treehouse in the Welsh woodlands, or trekking to see gorillas in the Uganda.
It is the brainchild of Hattie Seal and Annabel Upson, who met in Spain 10 years ago while on holidays, and have been friends since. Between them, they both thought there could be a way to promote a better way of living and travel that mirrored their own beliefs and finally started hatching plans in a pub garden in 2018.
Unfortunately, just as they were ready to take the plunge, Seal was diagnosed with breast cancer at the age of 27, and spent two years fighting the illness; no sooner was she given the all-clear than the pandemic kicked in.
But rather than be defeated and put their plans on the shelf again, they saw it as the perfect time to progress the business, using Upson's background in finance and marketing and Seal's travel experience with brands such as Tucan Travel.
"Annabel has experience in creating business plans for start-ups and also in the charity sector, so combined with my travel background, it makes sense, as we complement each other," says Seal. "Although we know each other well, it's still been hard starting the business together when we can can't meet properly in person to discuss the business as we would like to."
The name is inspired by research they heard of which shows how a strategy to protect whales could limit greenhouse gases and global warming: a Great Whale captures an average of 66,000lbs of carbon over a lifetime, compared to one tree, which can capture 48lbs of carbon, for example.
With a name set, and a sense of purpose, the agency launched in August, with the idea of promoting places and projects that have a strong focus on community investment; "accommodation we can shout about"; slow travel ideas; and dramatically cutting back on flight options where possible, says Seal.