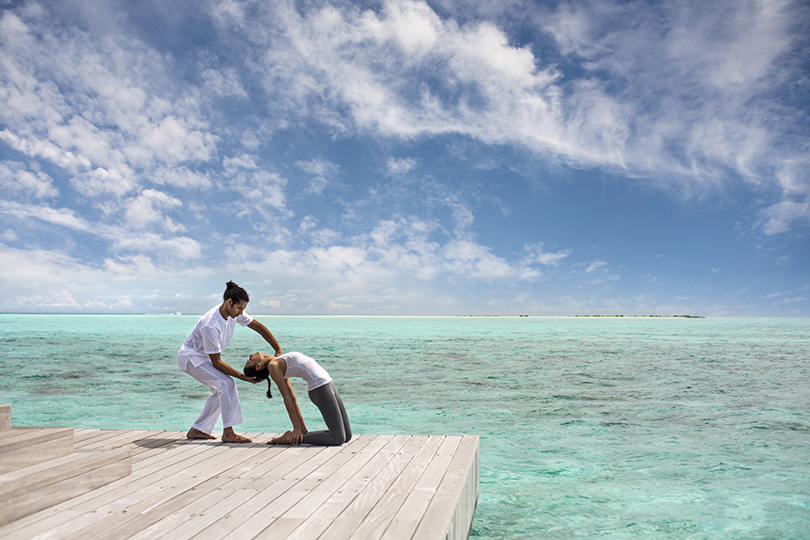 Four Seasons Laanda Giraavu Maldives Spa
In these most difficult of times, a key priority for when people can travel again is likely be a trip with a wellbeing focus, maybe seeking to strengthen their immune system, or searching to find meaning around the earth-shattering impact of the pandemic.
And clients will not be short of options, especially around a trend towards new Covid-19 specific programmes that help build defences to help avoid catching it, or detailed therapies to help those recover further who've had the virus.
Such is the potential in the segment, specialist luxury travel advisor Bluebird Travel has branched out with a new division, Health Travel, which will focus purely on suiting the needs of clients seeking solutions-driven trips. Their idea had been five years in the thinking, as Bluebird's wider client base started looking for more wellness on trips, but the pandemic provided the impetus "to finally put the plans into motion" for a separate offshoot, according to director Toby Watfa.
"With more time on our hands, we hired new talent, invested resources into creating the new brand and service, then further developed our partnerships with leading wellness hotels and experience providers," Watfa says.
As he points out, wellness travel is in demand now more than ever, particularly for those who have been confined in cities with little access to natural green space.
"With mental and physical health an ongoing topic throughout the pandemic, we anticipate wellness and reconnection to be the key focus of many upcoming trips in 2021 and beyond," he says. "The pandemic has reshaped our relationship with how we live and how we travel too. We are really suggesting a more proactive approach towards health too, identifying problems before they arise and helping clients adapt behaviours to lead a healthier lifestyle."
Ecole Hoteliere de Lausanne (EHL), which nurtures the next leaders in hospitality and offers an 18-week major in wellness and spa management, predicts a natural boom in wellness.
"Post-pandemic, we'll expect to see the rise of complementary and alternative medicine treatments and cures in specialist areas such as chiropractic, acupuncture and nutrition, as well as chanting and meditation being adopted within the wellness space as spas become spaces for mental and physical recovery," says Demian Hodari, hospitality strategy professor at EHL.