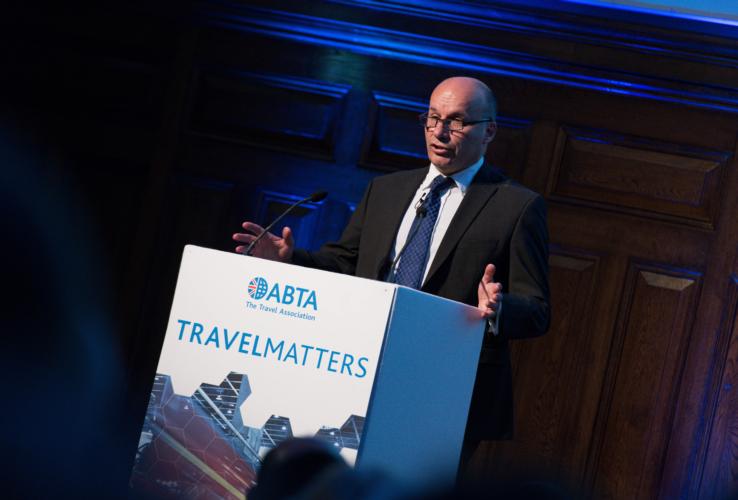 Mark Tanzer at Travel Matters.jpg
Those were the closing words of Abta chief executive Mark Tanzer, speaking at the 10th annual Travel Matters conference in London.
Tanzer opened the event by reflected on the past 10 years, before looking ahead to close.
"There's been a decade of change throughout the industry and I hadn't predicted how much political change there would be alongside that," he said.
"Ten years ago the idea of Donald Trump coming to the UK to advise Boris Johnson on how to leave the EU… you would have said 'what cloud are you on?' It's an amazing change we've gone through."
Tanzer went on to point out it would be the third year running that Brexit would be discussed at Travel Matters.
"We at Abta have spent a lot of energy contingency planning for a no-deal Brexit.
"It's not only been expensive and time consuming for us as a sector, but it's also created a drag on consumer confidence.
"Certainly in some of the trading statements from airlines and operators in the first half of the year, they're concerned about what's going to happen."
However, Tanzer went on to hail the success of Abta in managing to put in place arrangements with the EU in the case of a no-deal, such as securing flying rights.
"What gives me hope in that is that it shows the reciprocal benefit the EU and the UK have.
"53 million visitors going to the EU each year is a huge contributor to their economy. It really is a win-win situation. Tourism is not a zero sum game.
"Protectionism is becoming more and more common and whatever happens with Brexit we have to stay open to these relationships.
"We would encourage the next prime minister to really try and deliver a deal."
Tanzer highlighted the government's Aviation Strategy, the Airline Insolvency Review, airport capacity and Air Passenger Duty as other issues that have been considered besides Brexit over the part year.
"We have our part to play in reducing carbon emissions by 2050," he said.
"We need to be able to talk to the aviation sector about it. There are positive signs that through technology and better management we are at least able to demonstrate the aviation sector can grow passenger numbers without growing emissions at the same rate.
"But that's not the same as reducing carbon emissions and we've still got work to do.
"I do think tax has a part to play in that and I think we can work sensibly with the treasury to come up with a structure which can deliver money to the treasury and also be consistent in delivering sustainability in carbon targets and a thriving aviation sector which the industry and country need."
Tanzer signalled his belief that the sooner the country could return to a "more normal political system", the better.
He sounded a word of caution that the industry needed to be attractive to the workforce to protect its longevity.
"To be an attractive industry in an intensely competitive skills landscape and change the perception of our industry… it's an overused word but the industry must be rich in values – whether that's diversity and inclusion or climate change.
"That will be what determines our success."
Tanzer concluded: "Big changes really are on the way and in 2029 we'll be able to see whether we made a good job of it."