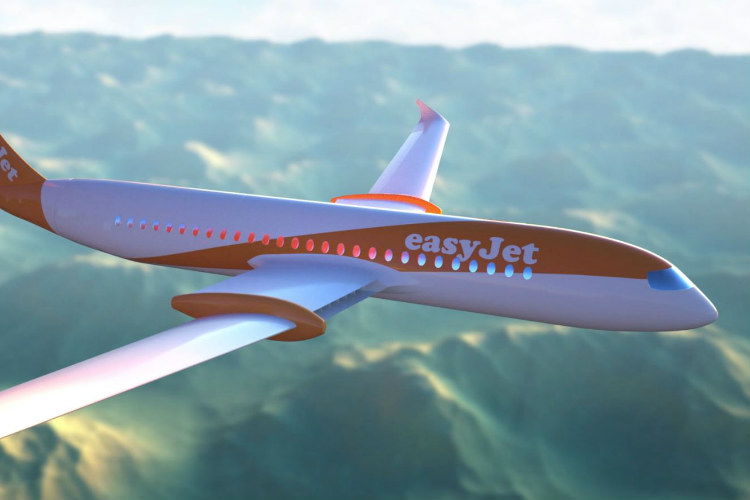 EasyJet is one airline with plans to develop electric aircraft
Chief executive John Holland-Kaye said electric flight and sustainable fuel development were vital if the industry was to achieve its target of being climate neutral by 2050.
"For short-haul flights, we will start to see electric flights. We will start making changes on the ground within the next decade," he told the Airport Operators Association's annual conference.
However, conventional propulsion methods were here to stay, he stressed.
"Short-term, the focus has to be driving the sustainable aviation fuel agenda. That is currently the only game in town for decarbonising long-haul flights."
Holland-Kay said the industry "had to break the back of this problem in the next decade" if it was to stand any chance of meeting the 2050 target.
He added: "It's funny, isn't it, that people often assume we don't care about carbon. Actually, the opposite is the case, because aviation is carbon intensive, we care more about it."
Carbon, not aviation, was the problem, he said.
Holly Greig, the Department for Transport's deputy director, aviation climate change, was asked if the government should fund decarbonisation efforts. She said transport minister Grant Shapps was very keen on aviation.
"We know the passion the secretary of state has for the aviation sector. We are continuing to push to ensure it gets the profile it deserves," she said.
"We are still having these conversations to see what is still possible. We do recognise there is absolutely a role for government here. I am hoping we will have some positive announcements."
Greig said next year's UN Climate Change Conference in Glasgow was "an opportunity to showcase what the industry is doing".
"There's some brilliant stuff happening in aviation," she added.