Ayvalik: Turkey's best-kept secret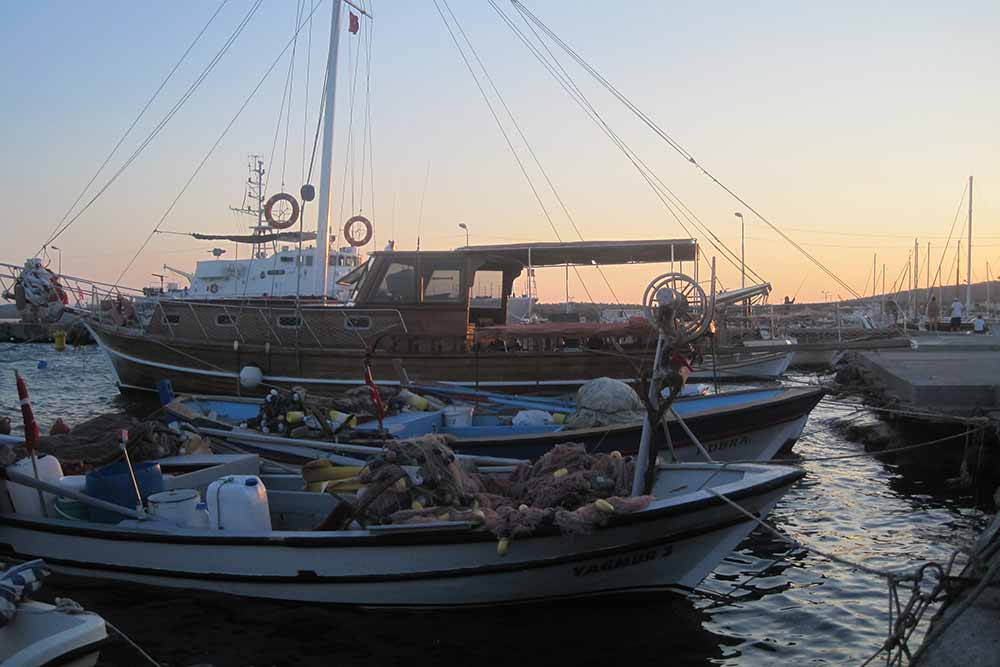 It's the best Turkish hotspot you've never heard of.
"It's true - all Turks wish they had a summer house in Ayvalik," explains Yasemin, owner of the Taksiyarhis guesthouse. With its narrow cobbled streets, old, Greek, stone houses and uninterrupted views of the Aegean Sea it's not hard to see why the seaside town charms so many locals.
But Ayvalik also conceals a chequered past. Greeks have been living in Turkey for centuries, and Hellenic influences are plain to see throughout the region, but in 1923 a population exchange was agreed between the two countries. Some 1.3 million Anatolian Greeks were sent back to Greece and some 400,000 Greek Muslims to Turkey; an event which provides the backdrop for Louis de Bernieres' 2004 novel Birds Without Wings.
The transition has made for some interesting architecture - churches have been converted into mosques, with minarets added and former tavernas are now thriving teahouses.
The tall brick chimneys that punctuate the skyline also form part of the town's unique identity. Some of these abandoned olive oil factories now feature coffee houses while others have been left derelict, though Ayvalik's long-standing tradition of producing Anatolia's best olive oil continues. Just a short drive outside the town's periphery clients can sample the golden liquid from a working pressing factory. An introduction to the art of olive oil production is included on our Intrepid Real Food Adventure of Turkey.
Driving back into town our tour guide stops en-route to pick some fresh figs from the tree before we move on to a local picnicking spot overlooking the bay. A feast is laid out before us: hunks of freshly baked bread, bowls brimming with plump tomatoes, honey, sour cherry jam, crinkly black olives, courgette fritters and hot pans of baked eggs with sucuk (Turkish sausage).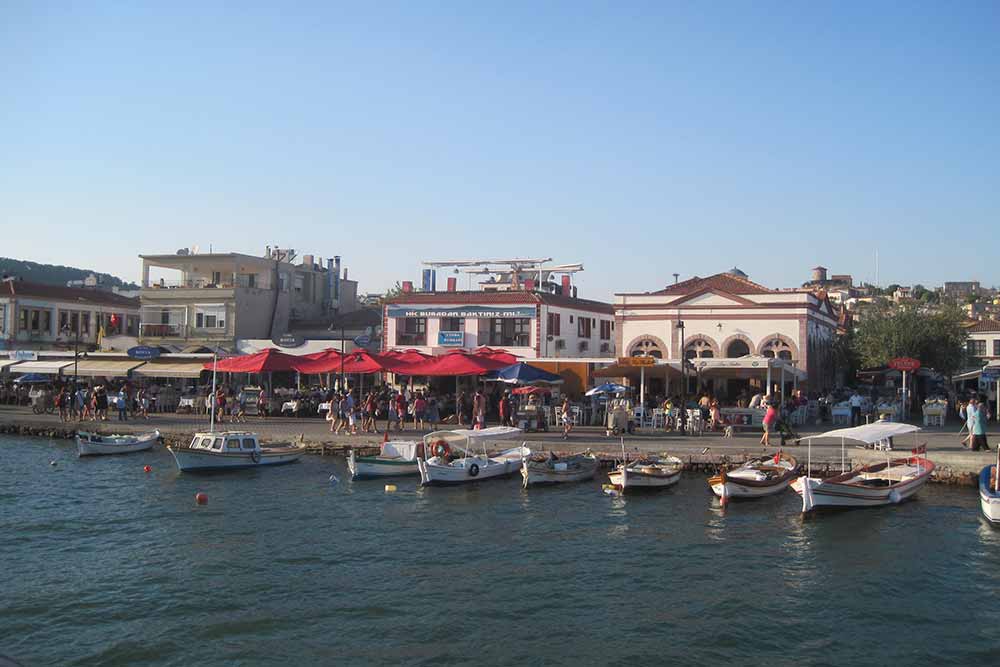 Come market day the town teems with Greeks, who come across on the short ferry ride from neighbouring island Lesbos. Even closer is the Anatolian isle of Cunda, where some of Turkey's rich and famous own houses. Aside from the beautifully decrepit Greek orthodox churches, a windmill perches atop the island's crest; once a chapel, the building has been converted into a library and bar.
It's the perfect spot for sundowners before heading quayside, where wooden fishing boats bob on the water, streetside stalls peddle chilled almonds and the pavements are thronged with local musicians. Fresh fish is the order of the day at the restaurants lining the waterfront, but we also make space for courgette flowers stuffed with rice, plates of samphire and cheese stuffed peppers.
Back in Ayvalik at the Taksiyarhis guesthouse there's plenty of space to wallow in before bed, from the warren of lounges to foliage-draped terraces. Spread over three floors the 200-year-old Greek stone house was initially intended as a family home. "We bought the house but it was too big so we wanted to share it," Yasemin says of the property she bought with her tour leader husband some 25 years ago. I drift off in my room just as the call to prayer echoes through the streets, a cool sea breeze sweeping in through the windows. If I had a house in Ayvalik I'm not sure I'd be so keen to share it.
Book it
Intrepid Travel offers a 13-day Real Food Adventure of Turkey, which includes two nights at the Taksiyarhis guesthouse (subject to availability) in Ayvalik. Prices start from £1,305pp based on a September 6 departure. The price includes accommodation, all breakfasts and selected other meals, activities, transport and a local guide.
Cox & Kings offers three nights at the Yundantik Cunda Konaklari hotel, Ayvalik priced from £595pp including easyJet flights, private transfers and daily breakfast.