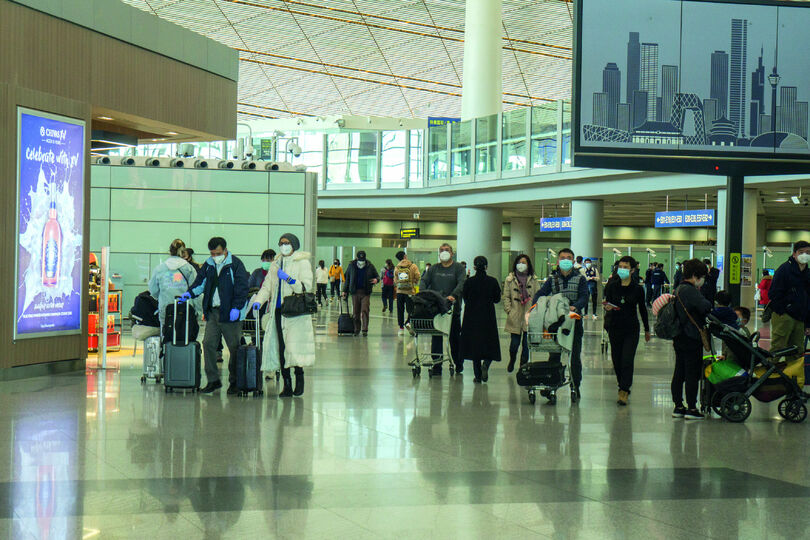 Coronavirus is prompting more health checks at airports
Italy has several areas in quarantine, with health secretary Matt Hancock saying on Tuesday that Britons returning from areas north of Pisa that have been quarantined should self-isolate at home for 14 days "whether or not they have the symptoms".
Coronavirus cases in Italy have risen from three to 229 in four days. Areas of concern include Lombardy, which houses Milan, Como and Verona, and Veneto, with the Venice Carnival already cancelled.
Hancock told the BBC there were no plans to halt flights to Italy from the UK or change travel advice. "If you look at Italy, they stopped all flights from China and they're now the worst affected country in Europe," he said.
Globally, cases of the virus have now reached 80,000, with Italy and Iran now areas of significant outbreaks. The situation has led to a fall in the share prices of travel companies, with Tui AG down around 9% and easyJet seeing a similar fall.
Singapore's Changi airport has stepped up passenger screening and hygiene measures in a bid to counter the coronavirus.
In addition to existing temperature screening, all passengers, staff and visitors entering transit areas are now being checked. Staff are encouraged to take their own temperature twice a day.
The airport has increased the number of hand sanitisers in its terminals from 160 to more than 1,200 and all areas are being cleaned with disinfectants up to four times a day. Ozone-infused water, which is more powerful than chlorine, is being used to disinfect high-use areas.