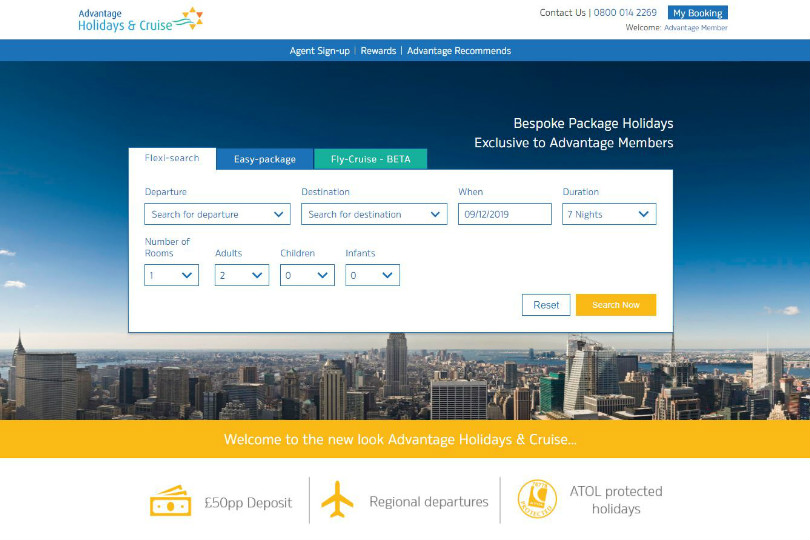 Advantage Holidays homepage
The Advantage Travel Partnership survey, completed by 4,228 respondents between 19 April and 3 May, found the majority were planning to use an agent because "they value the support and advice they give".
While the over-70s remain the largest group to favour use of an agent (79%), popularity among 18- to 30-year-olds is on the rise, with 55% planning to use a consultant's expertise.
"The research shows that coronavirus has led British consumers to re-evaluate how they book travel; and it is human contact, a voice and opinion that people value most," said Kelly Cookes, Advantage leisure director.
"Knowing that you have someone to contact easily is an attractive proposition during a time when the globe is fighting coronavirus. Expertise and knowledge are especially important when Brits are dreaming of returning to countries such as Spain and US, which have reported high coronavirus cases."
The survey also confirmed a keenness to travel once restrictions are lifted, with more than two-thirds willing to head overseas. Top of the short-haul list is Spain, followed by Greece, Turkey, and Portugal, while Mexico and Florida are the preferred long-haul destinations.

More than three-quarters of Brits' holiday budgets for the next 12 months will either remain unchanged or will increase, as 86% are willing to travel abroad despite the presence of Covid-19. Those aged under 30 are at least twice as likely than any other age group to increase their holiday budget for the next 12 months because of the virus.

The global pandemic has also given a fifth of British travellers a different perspective on life, prompting them to draw up a new travel bucket list.

Travellers aged 70 and over are most cautious about going abroad in 2021, with coronavirus stopping one in five, whilst only one in 10 of 18- to 30-year-olds said they will not go overseas.
Fewer than one-fifth have cancelled all travel plans for the rest of the year and the same proportion say they will be holidaying in the UK. Half of respondents aged 30 and under said coronavirus will not impact their decisions on where to travel to, compared with a quarter of the 70-plus.