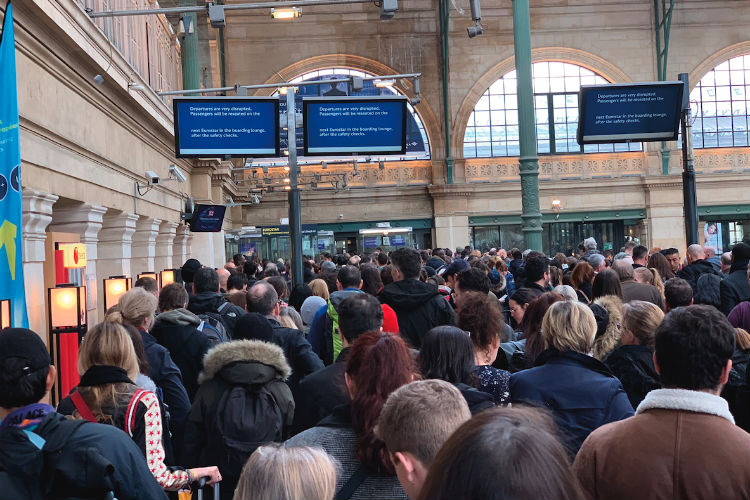 Eurostar 1 Twitter Credit southallmatty.jpg
That is the message from Eurostar after it was forced to cancel dozens more services amid ongoing industrial action by French customs officials.

Passengers have reported waits in excess of four hours at the border when travelling from Paris back to the UK in recent days.

Eurostar pre-emptively cancelled two services on Thursday, four on Friday, another on Saturday and a further three on Sunday.

This is in addition to a the 25 services it has already pulled between Thursday (March 21) and March 30.

"Due to industrial action by French customs, we are experiencing lengthy queues at Paris Gare du Nord station and expect this to continue until the end of March," said Eurostar in a statement.

"We strongly recommend that you do not travel during this period unless necessary. Please, also note that we are unable to offer our priority check-in service.

"If you are travelling from Paris during March, you can change your ticket free of charge to a future date, or claim a full refund. These delays may impact our planned timetables and cause subsequent cancellations."

Eurostar adds "availability is currently limited" so passengers may not be able to catch trains at their chosen time.

French border officials are "working to rule" over pay and conditions, and are enacting additional checks to simulate the likely effect of a no-deal Brexit.

The Foreign Office has updated its travel advice to reflect the disruption.

It advises: "Passengers travelling from France to the UK via the Eurostar, Eurotunnel or northern ferry ports should be aware that industrial action by customs officers is causing significant delays to all services.

"Some airports have also been affected. You should check with your service provider before travelling."