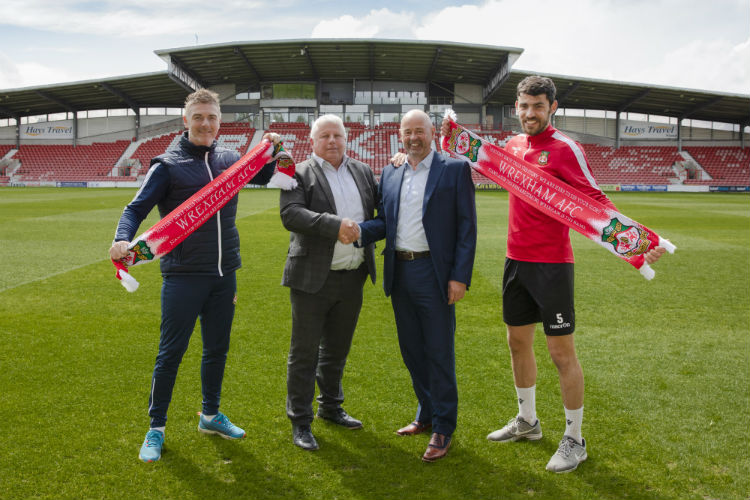 Hays North West Wrexham Web.jpg
Based in Wrexham's Lord Street, Hays North West has extended its sponsorship of the stand at the club's Racecourse ground for the 2019/20 season, the third year of the partnership.

The club is pursuing promotion back to the Football League after 11 years in the national league, formerly the conference, and won through to this season's play-offs where they will meet Eastleigh on Thursday (2 May).

Hays North West managing director Don Bircham opened the first store in the now 36-agency chain in Mold itself in 2000 and has long been associated with the club.

The business is Wrexham's official travel partner, sponsored the club's shirts for two years, and offers exclusive discounts to season ticket holders and supporters trust members.

"We are willing the club to make it back to the football league which would be so richly deserved," said Bircham. "For the club to keep sight of their goals, they need local businesses like ours to keep investing so we are delighted to be extending our sponsorship for another season.

"We are proud of our long-held support of Wrexham Football Club, which we know is so important to the community. Our head office is in the heart of the town and we are always keen to make sure we are doing our bit to give back to the community which has always supported us.

"We are forging ahead with major expansion at Hays Travel North West, which is going extremely well. As a company, we feel it is only right for us to use some of this success to support important clubs and organisations in the communities where we are based."

Geoff Scott, Wrexham AFC commercial manager, added: "We are a fans-owned community club, so to have Don Bircham and Hays Travel extending the partnership is fantastic news. Don and his company are long-term sponsors, he's a former Chief Executive of the club, a good friend to me and a friend to Wrexham football club and we are very grateful for the ongoing support.

"A lot of our money comes from our loyal fans but we do need commercial deals to keep things going and if we can land them with local companies such as Hays Travel, then all the better because it is what the club is all about – having this terrific support from the community."