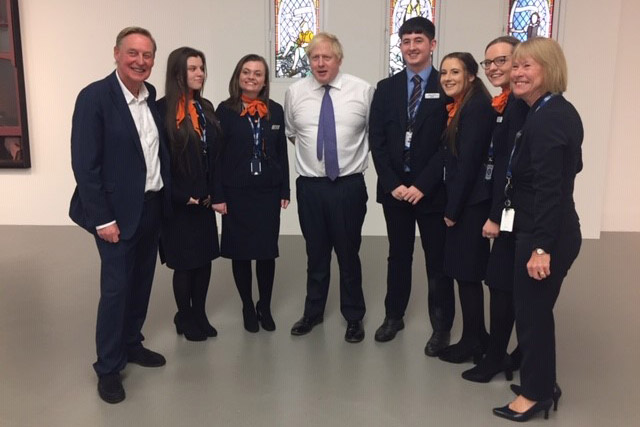 Hays Travel staff with Boris Johnson
They met Prime Minister Boris Johnson as he held his Cabinet meeting in Sunderland, home of Hays Travel's head office.
Joint owners John and Irene Hays also attended the event at Sunderland's National Glass Centre. Irene said: "We are very proud of our apprentices and delighted they had the opportunity to talk to the prime minister about their work and the future of the travel industry, which they are very much at the heart of."
The visit coincided with the start of a drive to recruit 669 additional travel consultant apprentices to be based throughout the whole of the UK, plus 30 further apprenticeships in various departments at the company's head office.
For the first time, Hays Travel is recruiting in Scotland, Northern Ireland and Wales, as well as all over England, following the takeover of the former Thomas Cook stores three months ago.
The recruitment drive comes during National Apprenticeship Week, which runs from 3-7 February.
Pictured with John and Irene Hays and Boris Johnson are, from left, Eden Smith, Emily Adams, Aaron Petty, Bethany Meir and Hannah Forest.