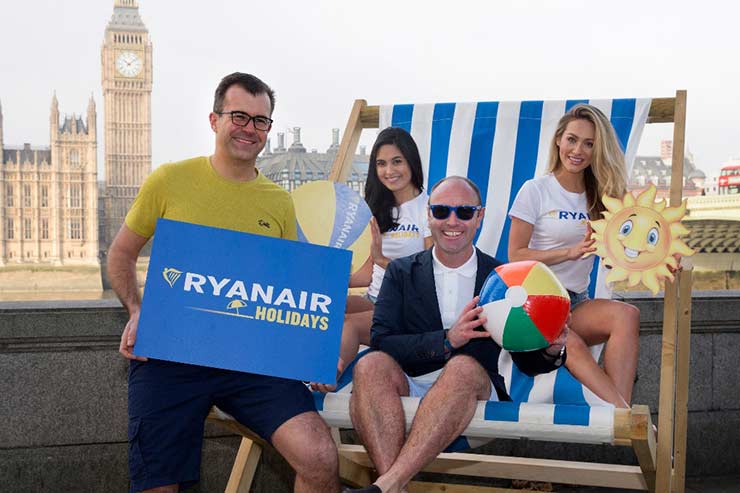 Ryanair Holiday promo by the Thames
Ryanair Holidays went live at the beginning of December in the UK, Ireland and Germany, with the airline having partnered with Spain-based tour operator Logitravel and bed bank World2Meet.

Ryanair chief marketing officer Kenny Jacobs said: "Consumers have been paying too much for package holidays for years, and more and more want to put their own packages together themselves."

However, Jet2 and Jet2holidays chief executive Steve Heapy expressed doubts that the airline would be a match for his own business. He said: "It's competition – and I believe in competition. I'm not sure the product on offer will be a traditional package holiday. Will they provide reps? Probably not.

"I see it as a different product to ours; we are full-service and customer service-orientated and we will be providing things that Ryanair probably won't provide."

Thomas Ramdahl, chief commercial officer at Norwegian, echoed the sentiment. "Of course we will compete with the same kind of customers on some destinations but we differ quite a lot in having the long haul," he said. "We will keep on dominating the long-haul, affordable space for years to come."

Chris Roche, travel industry consultant and former chief operational officer for Loveholidays, also argued factors other than Ryanair's size would ultimately determine if the scheme works. He said: "In my estimation there's a fair chance of success. Whether they [Ryanair Holidays] make it or not depends primarily on whether they can get the beds, which they probably can, and whether they've got the lift."

Roche said competition among Ryanair and OTAs would be tough, adding: "Any OTA which doesn't own any inventory is going to struggle, and that can be flights or accommodation. When you own the product you can control distribution and you can control the price.

"[If you don't] you're going to be pushed to the very bottom of the barrel on price. Unless you operate fantastically well, you're going to struggle."