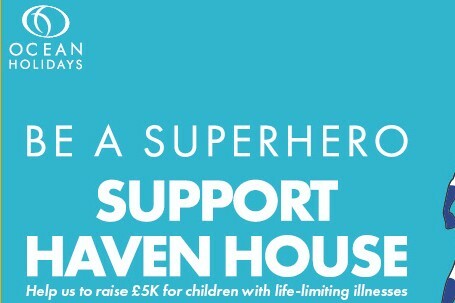 The agency group will help a local charity whose fundraising has been impacted by coronavirus
The Romford-based company, which comprises Ocean Florida, Winged Boots and Ocean Beds, will donate an initial £5,000 this month to support Haven House Children's Hospice's coronavirus appeal.
The hospice has been forced to reschedule a number of fundraising events and close its seven retail shops for the foreseeable future due to the current pandemic – with a dramatic drop in income as a result.
Ocean Holidays has called on its partners and customers to help Haven House by launching an online prize draw with prizes including a seven-night Orlando villa stay. The prize draw closes at midnight on 31 May.
Alongside the raffle, Ocean Holidays' staff are being encouraged to raise money individually, through online quiz nights, virtual DJ sets, plank challenges and sponsored lockdown haircuts.
Harry Hastings, co-chief executive of Ocean Holidays Group, said: "We were just weeks away from launching Haven House as our official charity partner over the next two years with a £25k fundraising target from 1 April, [when] coronavirus took hold.
''It's important to all of us at Ocean Holidays now more than ever that we give back to our community and support those most in need by delivering on this commitment.
"Tickets are just £1 each and there is no cap on the number each person can buy, so the more you donate, the more tickets you receive and the higher your chance of winning. But, most importantly, the more money we will raise for the hospice."
Haven House chief executive Mike Palfreman, added: "Families tell us that we are their lifeline and we cannot let them face this alone. The impact coronavirus will have on our vulnerable children and families could be devastating. Haven House faces a serious crisis and we need the help of our community."