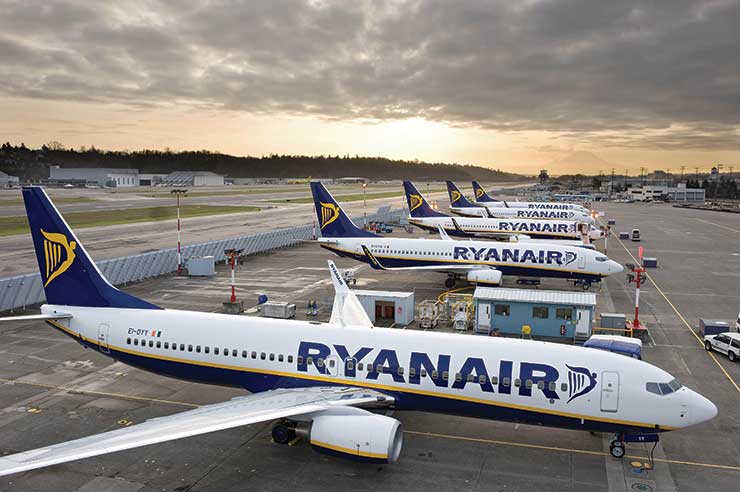 Ryanair aircraft lined up on stands
The image, which was posted on Twitter on October 14, quickly went viral and shows the team bedding down in their uniforms, using their jackets as makeshift pillows.

It was reported the Portugal-based crew ended up stranded in Malaga due to stormy weather. Ryanair airline came under fire for allegedly failing to put the crew up in a hotel for the night.
However, the budget carrier insists the image was staged.
A Ryanair spokesperson confirmed the dismissals on Tuesday night, stressing more than a dozen other members of Ryanair crew became stranded at Malaga when flights to Porto were diverted.
The airline, the BBC reports, said "no crew slept on the floor" and spent only a "short period of time" in the crew rooms before being moved to a VIP lounge. It even issued CCTV footage showing other members of staff milling around the room while some curled up on the floor.

The SNPVAC union has disputed Ryanair's version of events, claiming the crew spent more than four hours in the crew room without access to food, drinks and chairs.

Head Luciana Passo has confirmed the dismissals, but maintained the image was "no more than a show of the crew members' justified feeling of indignation".

The Ryanair spokesperson said: "All six cabin crew members in Porto were dismissed on November 5 for breach of contract on grounds of gross misconduct after staging a fake photograph to support a false claim they were 'forced to sleep on the floor' of the Malaga crew room, which was behaviour which damaged their employer's reputation and caused an irreparable breach of trust with these six persons."