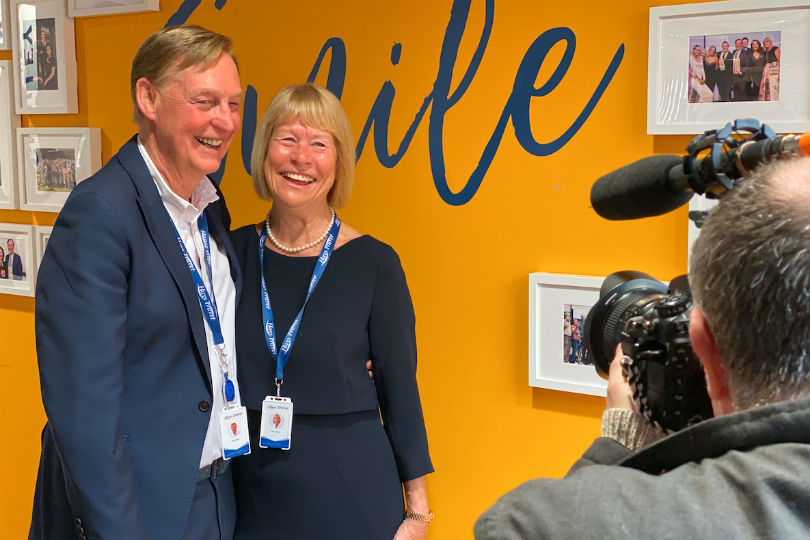 John Hays with wife Irene after Hays Travel acquired Thomas Cook's retail network last year
Hays collapsed and died at Hays Travel's Sunderland headquarters on Friday afternoon (13 November).
"It is with the deepest sadness and regret that we have to announce that John Hays, the founder and managing director of Hays Travel, died today, while doing the job he loved," said the firm, the UK's largest independent travel agency.
Mark Tanzer, chief executive of Abta, said: "John was a major figure in the travel industry over many years, and created one of the industry's most successful companies.
"Our thoughts and sympathies are with his wife Irene and his family, colleagues and friends at this very sad time."
David Dingle, chair of Carnival UK, said: "I am so desperately sad to learn of John's passing. He was the most outstanding figure I have known within the British travel industry, most particularly as an icon of social responsibility.
"He always knew when it was time to put people before profit. His example is one from which we can all learn.
"And we should all honour John as the champion of the high street travel agent, recognising that there remains a vital role for face-to-face engagement and trust between agent and client. I hope that others continue to follow in John's footsteps as a tribute to him.

"Our thoughts and deepest sympathies are with Irene and his family at this very sad time."