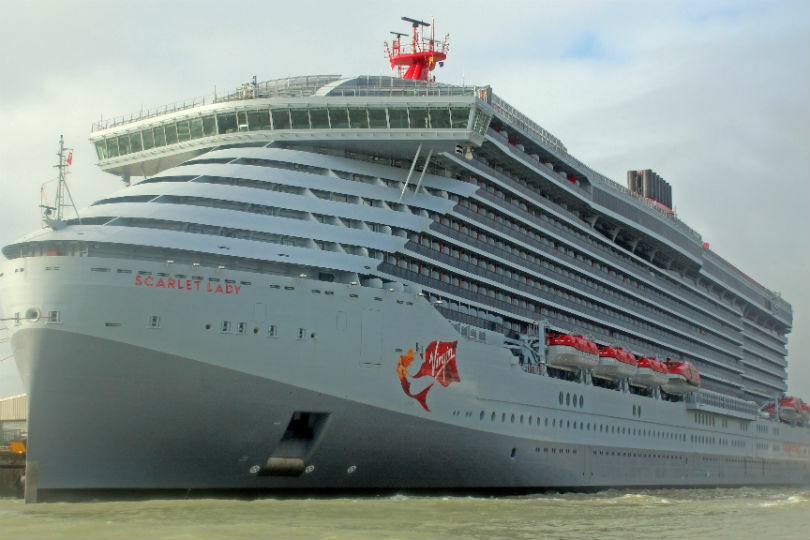 Virgin Voyages' Scarlet Lady in Dover. Pic credit: Port of Dover and Dover Strait Shipping
On Saturday I joined the ship for an overnight stay, and I can confirm Virgin Voyages has achieved (almost) everything it set out to.
Cabins are functional, if a little basic, with an open wardrobe and shelves covered by a curtain. There's not a great deal of storage but it's probably plenty for the four- and five-night itineraries the ship is offering, especially as there is no real dress code – meaning no posh frocks or tuxedos needing to be hung up.
The bed set-up during the day is an L-shape sofa, with the stewards then making it up into a bed for the evening. I liked this idea and it made the room more useful during the day. The bed was also surprisingly comfortable and you couldn't feel the "join".
There are no single-use plastic bottles of shower gels in the bathroom – these have been replaced instead by larger bottles, which was good to see. The cabin also turns itself off when you leave, and even draws the curtains automatically to save on air con and electricity. The higher grade Rock Star suites were large and some of the balconies were huge, but they felt a little under-furnished and not quite lavish enough for me to justify the price point (Massive Suites are priced at about £4,500pp for a four-day sailing, cruise only).
Where Virgin Voyages has really excelled is in its public spaces and restaurants. All the food I tried (I sampled Razzle Dazzle, The Wake and Test Kitchen restaurants) was excellent and worthy of a six-star ship, with innovative menus and lots of vegan and veggie options. Bars were well designed, and the attention to detail was excellent – they definitely haven't scrimped on the finish at all.