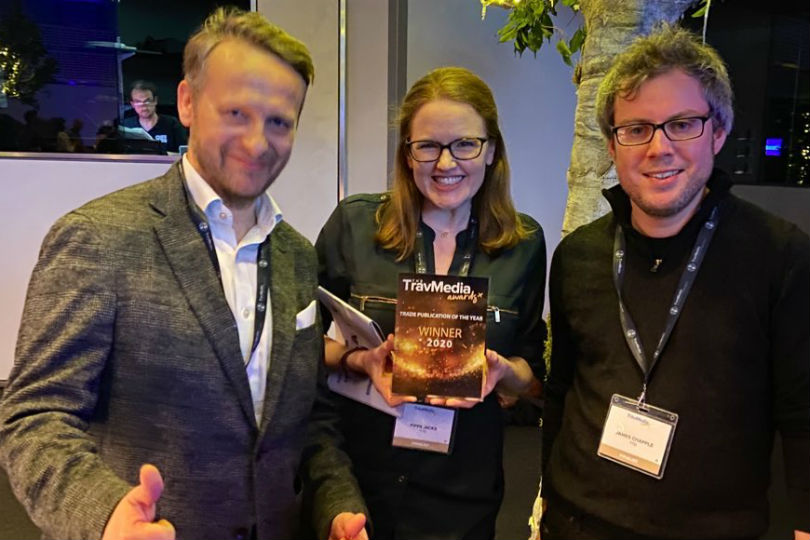 TTG's CEO Daniel Pearce, group editor Pippa Jacks and deputy news editor James Chapple at the awards
Announcing the winners at a ceremony in London last night, the judges praised TTG for its redesign last April as well as its commitment to sustainability through its use of 100% recycled paper and financial support of the brochure plastic wrapping recycled bin scheme, currently being trialled in travel agencies in the east of England.
Elsewhere, TTG was commended for championing diversity and inclusion, following the launch of its new Diversity and Inclusion in Travel programme at the start of the year.
Commenting, Henry Hemming, managing director of TravMedia.com said: "The oldest weekly trade publication has triumphed at the ripe old age of 67. For our judges the contributing factors were a great redesign, a Stylist-sized format, 100%-recycled paper and biodegradable wrappers.
"They introduced a new mission statement: 'For a smarter, better, fairer travel industry' and are now running a 'Diversity & Inclusion' conference; tightened up their paywall and introduced personalised news feeds based on demographics; and next is a scheme to get travel agencies to recycle brochure wrap."

TTG group editor Pippa Jacks added: "We are thrilled to win this inaugural TravMedia award. TTG Media is passionate about working to promote a smarter, better, fairer travel through our focus on sustainability and diversity and inclusion. It's fantastic to see the hard work of everyone throughout the business being recognised with this award."