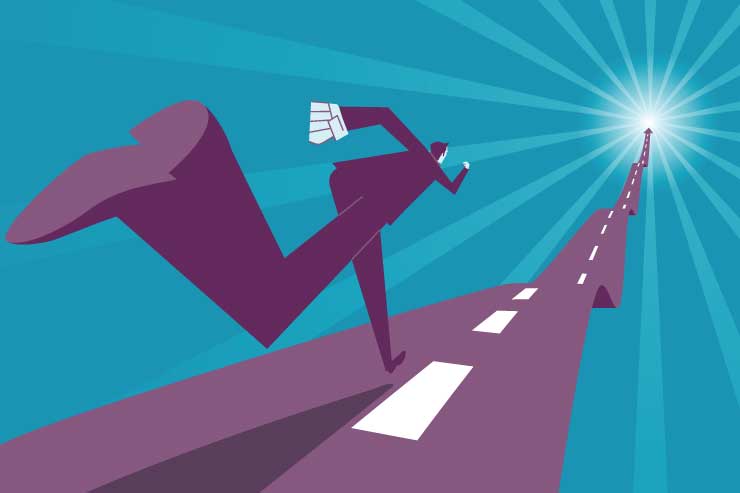 Man running into distance graphic iStock-455441231
As last week's TTG Top 50 Travel Agencies ceremony showed, travel agents are continuing to flourish, with large numbers expanding their shops and developing their teams. Rob Gill reports.
More than three-quarters of the best travel agencies in the UK and Ireland have said 2016 was their strongest ever year, with a large number having to expand and recruit more staff to support their growing businesses.

In a survey quizzing 41 of the shortlisted branches from this year's TTG Top 50 Travel Agencies initiative, respondents also said they had noted a huge increase in new business as customers increasingly return to the high street, valuing the expertise of a travel professional and becoming frustrated with the process of booking a holiday online.

All of the high street agencies that took part in the survey said they had increased sales last year compared with 2015. More impressively, 39% of these agencies said their sales had increased by 25-50% between the two years.

Given this impressive growth, it was not surprising that for 88% of the agencies, 2016 was their most profitable of the past five years.

The same number of agencies also enjoyed a record-breaking year for sales in 2016.

Gaining new customers was key to this growth, with 93% welcoming an increase in the number of clients who had never booked with the agency before, compared with the previous year. Even more impressively, 15% of the agencies recorded an increase in the number of new customers of more than 50% year-on-year.

They were also boosted by the return of some existing customers who had booked elsewhere or online during the previous year – 66% said they had seen a "fair" or "significant" increase in the number of these returning clients in 2016.