The active adventures on Jersey for nature lovers
From energetic experiences to ways your clients can channel their inner energy in a natural environment, Jersey offers the ideal island break for nature lovers in 2021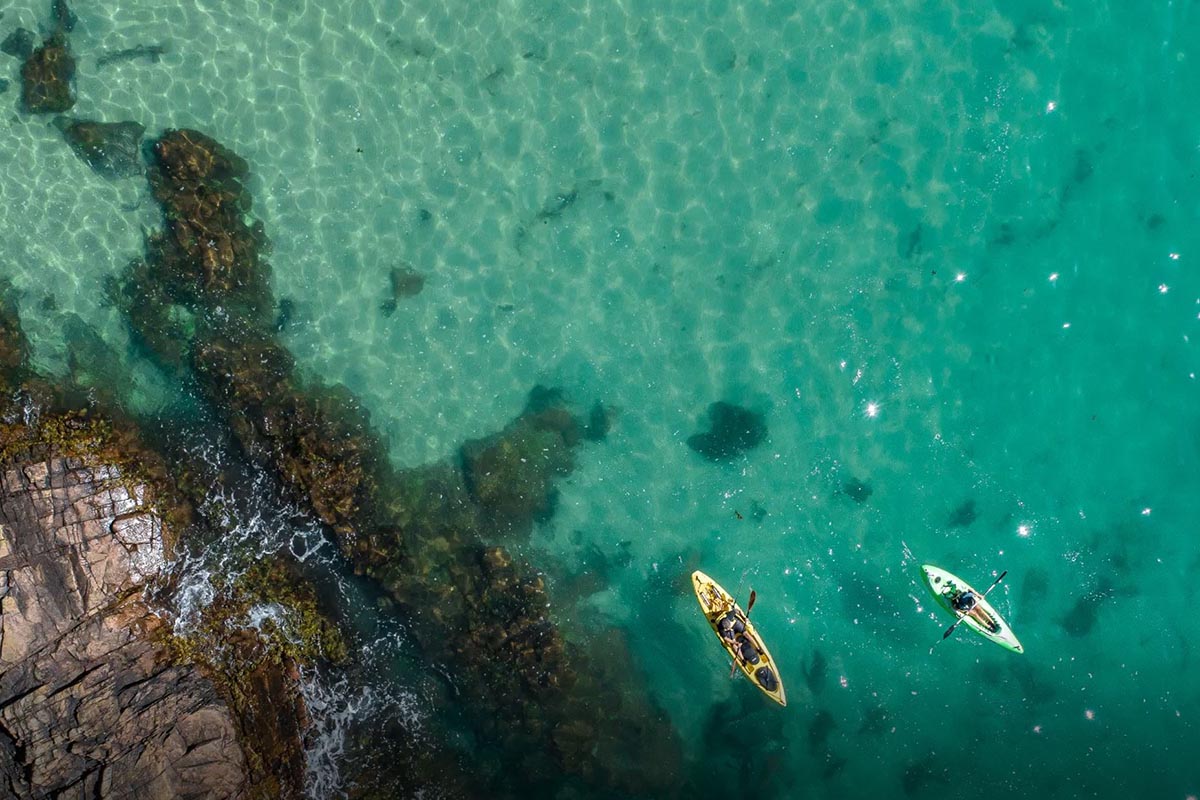 After almost a year spent in lockdowns and enduring restrictions on leaving home, clients will be looking to immerse themselves in the Great Outdoors during their holidays in 2021. On the island of Jersey, there are plenty of ways for visitors to reconnect with nature and restore their balance. And, with the destination's naturally safe outdoor activities and Visit Safe Charter, clients can rest assured they'll be kept protected from Covid-19 during their stay.
Jersey is only nine miles by five in size, so there are plenty of coastal adventures to be had nearby whichever accommodation your client has chosen to stay in. St Brelade's Bay, St Aubin's Bay and St Ouen's Bay are all hotspots for watersports, with visitors given the wide choice of stand-up paddle-boarding, surfing, coasteering, kayaking, water-skiing, jet-skiing and even blokarting.
Those that prefer to be above the water's surface rather than on or under it can take an excursion with Jersey Seafaris, a local tour operator offering rigid-inflatable boat (RIB) trips around Jersey's archipelago, to Les Ecrehous and Les Minquiers (one of the largest unexplored areas of Europe), or to its neighbouring neighbouring Channel Islands and France. The operator can also run private, tailor-made charters for visitors that would prefer to book just their bubble.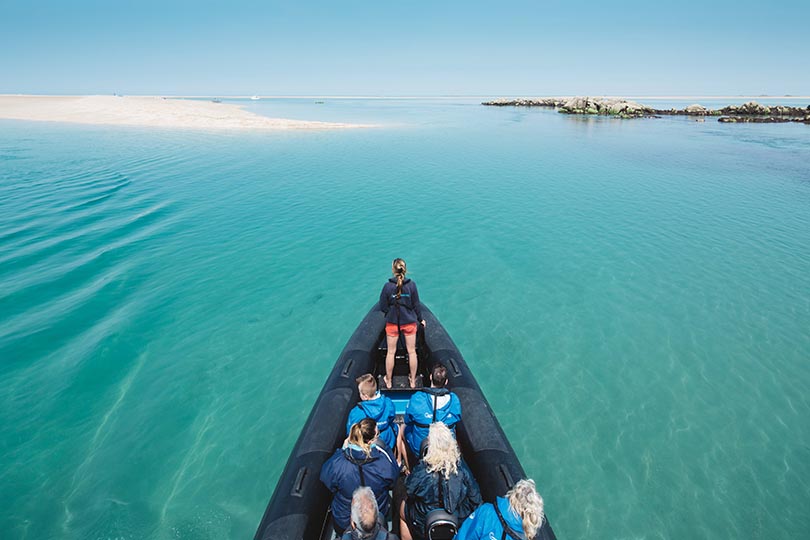 Back on dry land, there are even more bookable experiences for your clients to try. Climbing and abseiling in St Catherine, at the medieval Mont Orgueil Castle or on Le Pinacle rock face promises sweeping sea views, while the Valley Adventure Centre adds aerial trekking, zip-wiring, archery, laser combat and paintball to the possible agenda – this activity park is a great option for families.
STAYING CONNECTED
Other activities on Jersey allow visitors to get to know the island at their own pace. Take cycling for example – whether a client wants to cycle for pleasure or fitness, Jersey's winding woodland trails and smooth, bike-friendly highways are made even more appealing by the destination's mild climate and varied topography. Electric Evie bikes are also available for those seeking an easier ride along the coastal lanes.
But nothing allows travellers to get to know Jersey better than walking. The island's cliff-top paths and country lanes pass wildflowers, secret picnic spots and French-influenced villages packed with places to grab a pick-me-up. Those who like to take a breather and re-centre themselves can stop off in a woodland clearing along the way for meditation or an al fresco yoga session – filling their lungs with salty sea air or relishing the earthy smells of the forest in the process.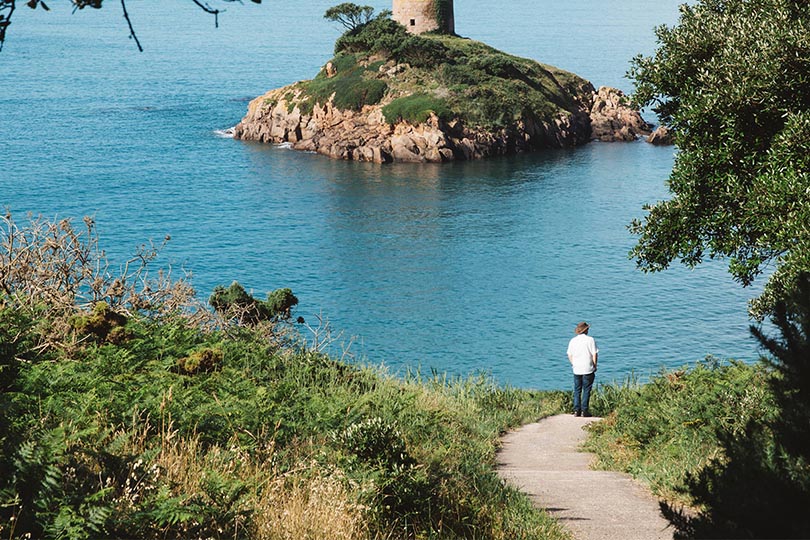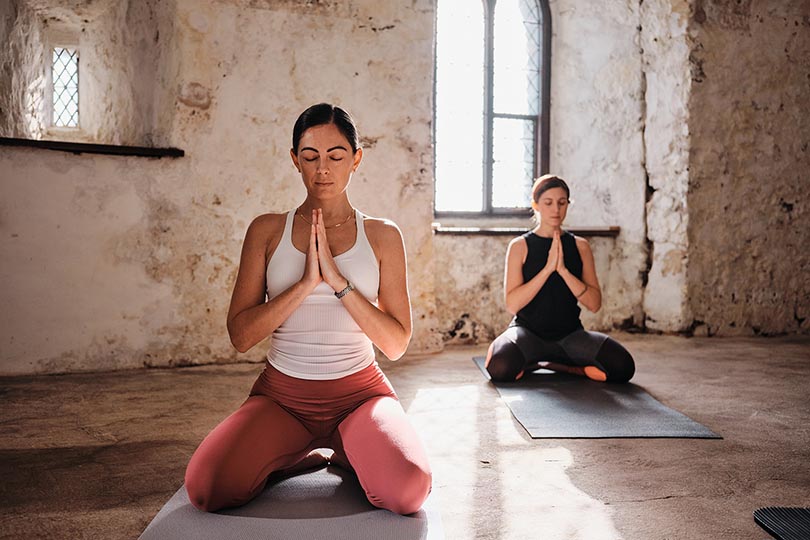 Unwinding through yoga is an option at a number of locations on Jersey, including atop a World War II bunker at Le Braye beach, on a paddle-board balancing on the ocean's surface or on one of the many golden beaches. Choose a sunset session to really elevate the experience for your clients.
One final experience worth suggesting to clients seeking a connection with nature is at Plemont Beach, on Jersey's north west coast. By descending the steps here at low tide, visitors will discover mystical caves housing a waterfall that has created a perfect natural shower. There's also a beach cafe perfectly placed for visitors to dry off afterwards, treat themselves to homemade waffles or cake and a cuppa, and watch the seemingly ethereal waves roll in.