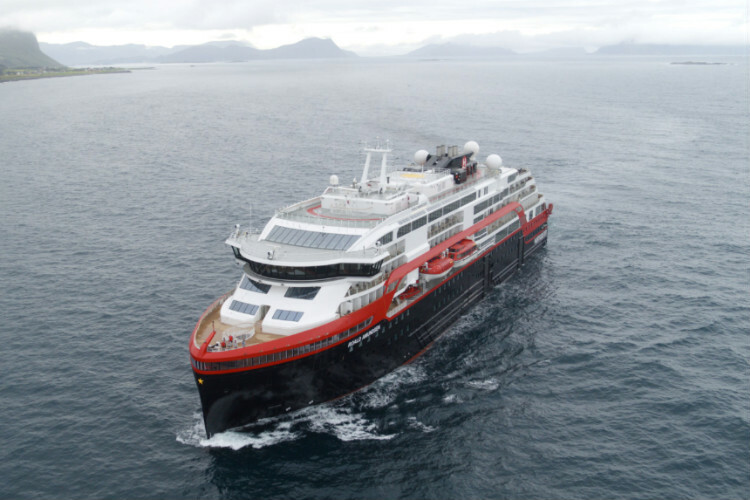 Hurtigruten's Roald Amundsen
The cruise company said it had "uncovered several deviations from procedures" when an outbreak was confirmed on Roald Amundsen.
The line's vice president of global communication Rune Thomas Ege said: "Guests travelling with Roald Amundsen should have received information at an earlier stage.
"We have failed. Information regarding recommendations and agreements with the national health authorities has not been forwarded. This happened due to a failure in our internal information routines. We strongly regret that."
A full investigation has been launched, but Ege stressed: "It's important to underline that we never intentionally tried to hide or hold back information. Lack of clear and accurate information internally has resulted in weak communication over the last couple of days."
Chief executive Daniel Skjeldam said: "The preliminary examination of what happened on Roald Amundsen has uncovered several deviations from our procedures.
"That's not good enough. It has caused a demanding and serious situation. I apologise to our guests, colleagues and everyone who cares for Hurtigruten."
Hurtigruten said it would assist police and other Norwegian authorities, "who will conduct their own examinations of the matter".
Hurtigruten temporarily suspended all expedition cruises until further notice on 3 August following the outbreak.
Roald Amundsen is currently docked in Tromso, where all 158 crewmembers have been tested for Covid-19 and 36 have tested positive. All but three of the 36 confirmed infected are Filipino crewmembers. The rest are German, Norwegian and French nationals.
Four crewmembers have been hospitalised at the University Hospital of North Norway. Three are "recovering strongly" and likely to be discharged this week. The fourth is described as stable.
Testing has also been carried out on Fridtjof Nansen, which is currently returning to Hamburg at the end of a two-week expedition cruise along the coast of Norway. There are 171 guests and 162 crewmembers on board.
On Monday four crewmembers were placed in isolation with mild common cold symptoms. All four tested negative for Covid-19, but all crewmembers are being tested and guests confined to their cabins.