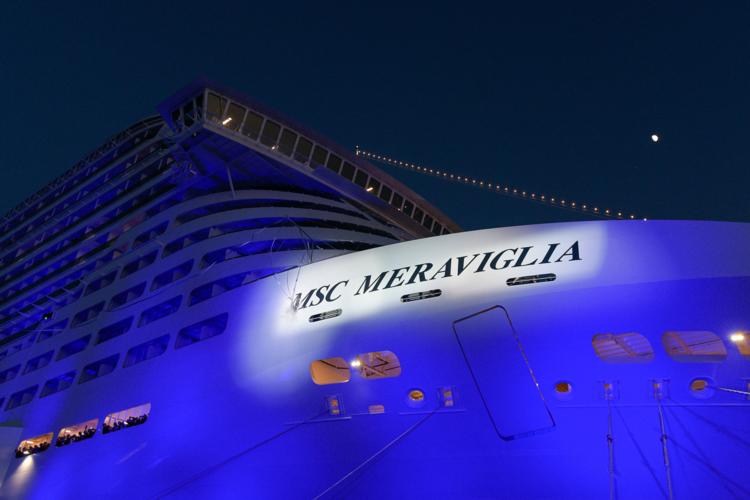 MSC Meraviglia christening.jpg
The 5,714-passenger ship was christened by Hollywood icon Sophia Loren in Le Havre on Saturday (June 3).
The new ship, whose name is Italian for wonder, features a pair of exclusive shows by Cirque du Soleil as well as 12 "distinct" dining options, an "enhanced" version of MSC's Yacht Club, plus an 80-metre LED ceiling above the ship's promenade.
It is also the first of 11 "next generation" ships being built by MSC to boast the line's new onboard technology platform, MSC For Me.
Meraviglia will be based in the Mediterranean during summer 2017 and then in northern Europe next year before moving to Miami in 2019.
During the ceremony, which was attended by more than 2,000 guests, Pierfrancesco Vago, MSC Cruises executive chairman thanked STX France and its shipyard in St. Nazaire where Meraviglia was built.
Among his other thanks, Vago praised godmother Loren for the "good fortune" she had given to the line since becoming godmother of MSC Lirica, in 2003.
MSC chief executive Gianni Onorato, who also spoke during the event, praised travel agents around the globe for their continued support.
Entertainment came courtesy of Moroccan-French comedian Gad Elmaleh, rock star Patrick Bruel and Kids United, a French pop group compiled of children created in support the work of Unicef, MSC's chosen charity.
In a statement released prior to the christening ceremony, Vago said: "We have an ambitious vision for the future and MSC Meraviglia marks the start of the second phase of growth for our company.
"For this reason, this evening is an extremely proud moment for all of us at MSC Cruises as we see the first of our next-generation ships being named.
"The new ships that we are building – between 2017 and 2020 alone, we will receive six new ships [which] are purpose-built, featuring innovation in both product and design, as well as the very latest-cutting edge marine and consumer-facing technology to create unforgettable holiday experiences at sea for guests of all ages.
"MSC Meraviglia is the first to make this vision come to life, as it sets a new standard for cruise ships as a destination in itself."