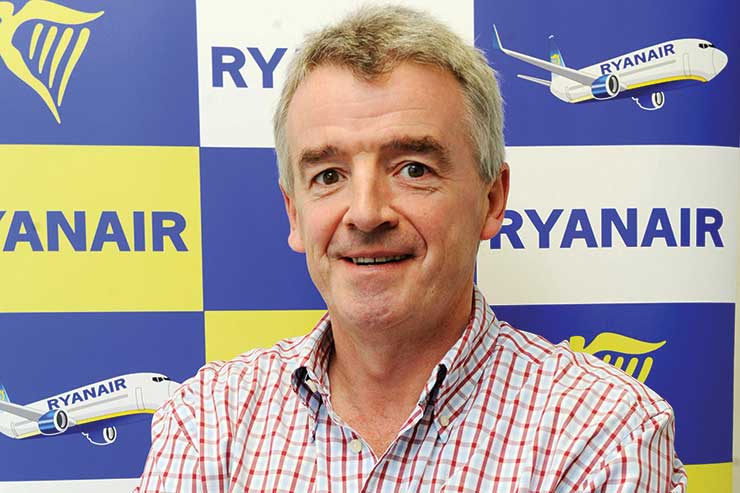 Michael OLeary, director and CEO of Ryanair
O'Leary's future had been in doubt after hinting he could retire at the end of his current five-year term, or move instead to a rolling 12-month contract.

However, the budget carrier confirmed in reporting its third quarter results on Monday (February 4) its outspoken leader would remain at the helm.

Ryanair posted a Q3 loss (three months to December 31, 2018) of €20 million (£17.5 million), citing weak winter fares driven down by excess capacity.

According to Ryanair, the airline will, over the next 12 months, "move to a group structure not dissimilar to that of IAG".

O'Leary will lead the transition as group chief executive, overseeing a "small senior management team" with oversight for the group's four subsidiaries – Ryanair DAC, Ryanair Sun, Ryanair UK and finally Laudamotion, fully acquired by Ryanair just last week.

Each subsidiary, in turn, will have their own chief executives and management teams. A replacement for O'Leary at Ryanair DAC will be appointed later this year.

"As we expand the Lauda Airbus fleet and take delivery of more than 200 Boeing 737 Max aircraft, we believe this group structure will deliver cost and operating efficiencies, while enabling the group to look at other small-scale M&A opportunities like the successful development of Lauda," said the airline in its Monday trading update, confirming O'Leary's new tenure.

"His agreement to commit for a five-year period is welcome, [will] give certainty to our shareholders and allow him to guide the individual CEOs of Ryanair, Laudamotion and Ryanair Sun," it continued.

Meanwhile, chairman David Bonderman and director Kyran McLaughlin have agreed to remain in post for a further year until summer 2020 but will not contest re-election at the airline's September 2020 annual general meeting.

Stan McCarthy will take up the role of deputy chairman in April before taking over from Bonderman in summer 2020.

"Stan will bring his enormous international experience as a former CEO of Kerry Group Plc and leadership skills to the development of Ryanair Holdings over the coming years, although a legend like David Bonderman will be a very hard act to follow," the board added.