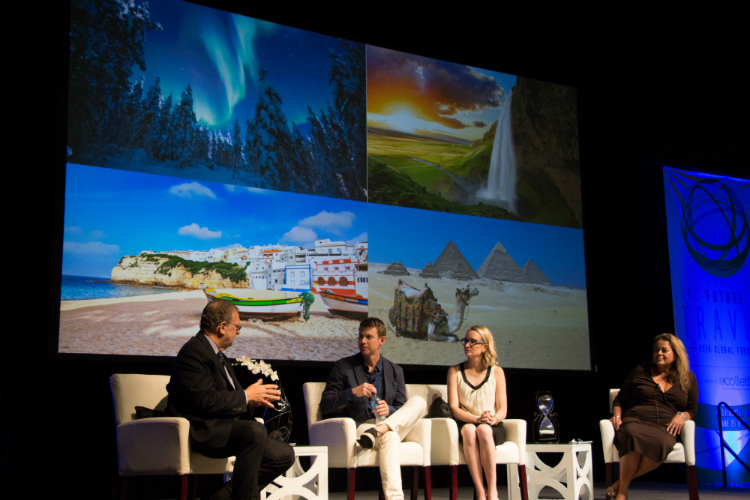 Collette Global Travel Forum 2.jpg
The family-owned travel company, founded in 1918 by Jack Collette and which underwent a UK restructure earlier this year, celebrated the centenary with a series of events in its home state of Rhode Island last week.
More than 400 staff and partners from around the world attended the landmark anniversary, which included the two-day Future of Travel forum.
Christian Leibl-Cote, Collette's senior vice-president global business, said the operator welcomed guests from the US, Canada and Australia, as well as more than 40 UK delegates, including representatives from leading tour operators like Thomas Cook.
MORE: Collette's new UK team ready for 2019 expansion drive
"Everybody got the chance to see our headquarters," said Leibl-Cote. "We have just bought a third building on the campus, which will allow us to expand by up to 200 employees."
The company currently employs 400 people at its Rhode Island base and has a worldwide staff of more than 700. Leibl-Cote . said business was "going great", adding: "People want to travel more than ever and the world is getting smaller.
"From an operational point of view, we need more employees and we had been running out of space."
It is a far cry from the early 1960s when Collette's office was "so tiny that if you took a step backwards, you fell down an open hole to the basement", recalls Alice Sullivan, who chairs the company's board.
Collette was founded in 1918 when Jack Collette chartered a bus and drove a handful of Bostonians 1,500 miles down the East Coast to Florida for just $68.50.
Dan Sullivan Sr purchased the company from Collette in 1962, and his son Dan Sullivan Jr has been at the helm since 1990.
"To be part of a family-owned company that's been operating for 100 years is incredibly rare – particularly when you consider only 3% of third-generation family businesses survive", said Leibl-Cote, whose wife Jaclyn, Sullivan Jr's daughter, was promoted to president during the event and will eventually succeed her father as chief executive.
MORE: Collette announces new president
"The success is really down to having a great team - from our call centre staff to our tour guides, executives and upper managers. We're lucky to have the best team in the industry," he added.
So what's next for the operator? First up is the relaunch of its Explorations small tours brand later this summer.
"These trips have an average of 15-16 people on them and we offer lots of unique experiences - going to a private winery and having a home-cooked meal with the owner and tasting their wines; or having a private tour of a museum with the curator," explains Leibl-Cote.
"Our Classic tours are still a big part of the business but Explorations is something we're very excited about."