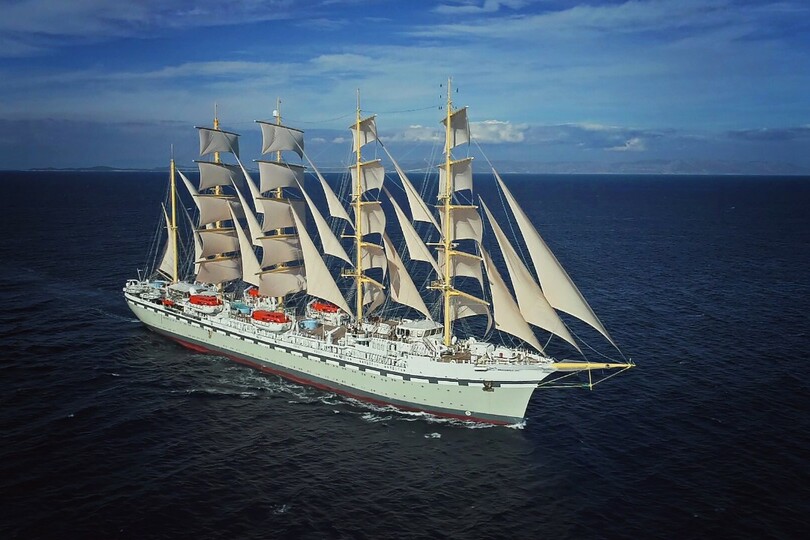 Tradewind Voyages' ship, Golden Horizon, will begin sailings next summer
Tradewind Voyages will operate Golden Horizon, the world's largest square-rigged sailing ship, from May to August 2021.
Capable of carrying up to 272 passengers, the vessel will sail an initial nine North European voyages, seven from Harwich and two from Glasgow, with itineraries featuring Denmark, Iceland, the Norwegian Fjords and the Baltics.
The ship will then transfer across the globe to feature destinations in Australia, the Indian Ocean, Japan, Alaska, the Americas and the Pacific Islands in late 2021 and 2022.
The line's programme will go on sale in September and be driven by a team of well-known travel industry faces including chief executive Stuart McQuaker, sales and marketing director Jeremy McKenna, head of marketing and distribution Amanda Norey and product director Oliver Hammerer.
Golden Horizon will allow guests to explore the world's oceans more sustainably, with voyages planned using the prevailing winds and currents, the line said.
Tradewind is also planning to add further newly-designed ships to its fleet "over the coming years" with the design process underway.
"The team is hugely excited by the opportunity to operate this fabulous ship," said McQuaker. "We are looking forward to her introductory season in the UK and then taking her to some unique parts of the world, on itineraries that are planned to ensure we use the prevailing winds and currents to capitalise on her sailing credentials."
McKenna added: "We are looking forward to working with our trade partners to give our mutual guests a true sailing experience on board this stunning ship as part of an unforgettable holiday."