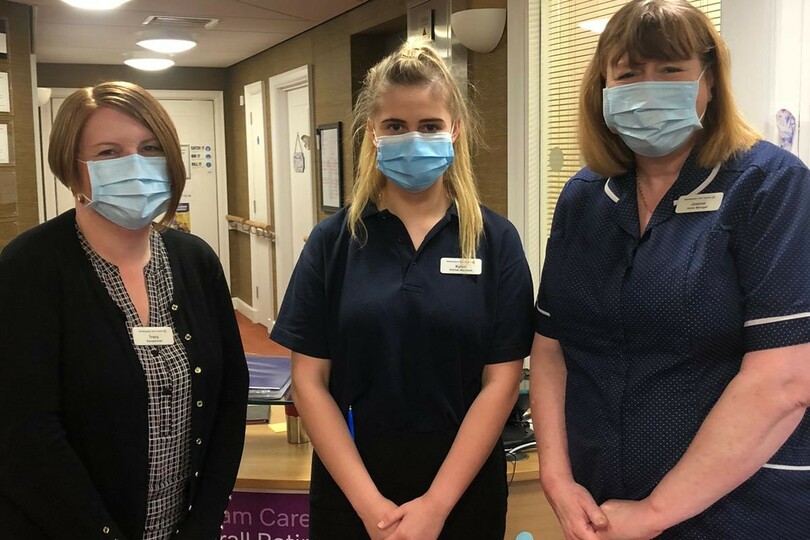 Cruise Ready's Kyrah Martin (centre) has been helping at her local home amid the coronavirus crisis
Kyrah Martin joined the team at Rendlesham Care Centre in Suffolk earlier this month, which provides residential, nursing and dementia care for up to 60 residents.
She has been supporting its kitchen staff by delivering meals, organising food supplies and washing up among a number of other jobs.
The 17-year-old is an apprentice at Cruise Ready in Woodbridge, part of Deben Travel, having joined the agency in September.
Speaking to TTG, she said: "The home is just a few doors down from my house and my mum works there as a receptionist, so I really wanted to help out.
"I know there has been a lot of news coverage about the situation facing care homes but I wasn't nervous as I'm not in a vulnerable group [of the population].
"My role is all about protecting and helping our residents and I'm more than happy to be doing it. I know a lot of people would prefer to stay home with everything that's going on but I just wanted to make a difference in any way I could."
Deben Travel boss Lee Hunt said his team was "extremely proud" of Martin.
He added: "Not only is Kyrah a pleasure to work with, great with customers and excelling in her studies, [but] you do not find many 17-year-olds taking the initiative to support her local community in the way she has."
Hunt said his business would support Martin to continue her volunteering in future post-coronavirus.
She added: "I really want to keep helping [at the home] as there's such a great and caring team and seeing the residents happy is what it's all about."